Why rare bird died after 7000km flight to Kenya
2 min read
The rare Osprey Bird that flew over 7000 kilometers into the country from Finland has died.
According to a statement from the Kenya Wildlife Service (KWS) on Monday, January 27, the bird succumbed to long-term starvation which had led to massive organ failure.
"Despite all efforts to rehabilitate and eventually release it back to the wild, the four-year-old bird of prey died at the weekend while under the care of KWS veterinarians and a KWS-licensed Raptor Rehabilitation Centre in Karen Nairobi."
"A post-mortem report conducted by the veterinary teams attributed the death to long-term starvation which precipitated systemic organic failure," the statement read.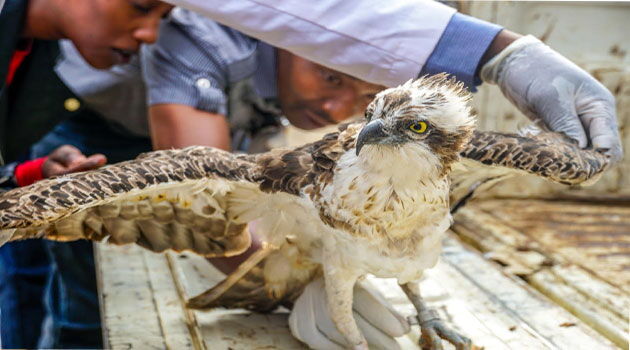 The KWS officers indicated that by the time the bird was delivered to them, it had been severely dehydrated, weak and emaciated from the long flight and minor injuries that were encountered when trapped by the fishing net.
The bird, they stated, weighed a paltry 950 grams against the normal range of between 1.3-1.8 kgs.
The KWS indicated that they had tasked themselves to give the bird the best care they could afford with a view to releasing it back to its natural route in Siaya, where it was found.
"We were feeding and treating the fish-eating bird back to good health with a plan to release it at the exact site in the L. Victoria catchment so that the bird does not lose its bearings on the return epic flight northwards in early March," they announced.
The KWS also announced that they had received information from Finland that the bird had indeed come from there as it had been ringed in 2017 and was mature enough for breeding, before its untimely death.
KWS indicated that it was its role to take care of such animals given that the country is a party to agreements that called for the protection of any such species.
"Kenya is a signatory to the Convention on Migratory Species, whose conference of parties is to be held in India in February in India and one of the key mandates is to ensure the conservation of migratory birds species and their habitats.