Ignore Brenda, Brian 'Healing' – Moses Kuria warns Kenyans
2 min read
Gatundu South MP Moses Kuria on Thursday, April 2 advised Kenyans to ignore the testimonies of two recovered Covid-19 patients, Brenda Cherotich and Brian Orinda, who appeared at government press briefings on Wednesday, April 1.
Kuria maintained that the press conferences were a bad idea, maintaining that President Uhuru Kenyatta had been misled over the matter.
In a post on Facebook, Kuria advised Kenyans to continue to take precautionary measures, forget the duo's appearances in the media as the numbers would only continue rising.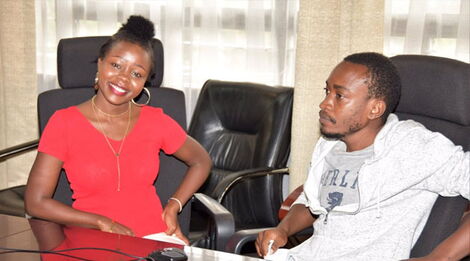 Brenda Cherotich and Brian Orinda pictured on April 1, 2020 in Nairobi after their recoveries from Covid-19 were confirmedTWITTER
"From a communications point of view, the Government of Kenya performed badly on COVID-19 yesterday. Forget the Prophet Owuor healing Press Conference for the Brenda & Brian Initiative.
"Do not be fooled. Continue keeping safe. Corona Virus is a very lethal killer. 100,000 Americans will die in the next 2 weeks as confirmed by President Trump," Kuria wrote.
With Deputy President William Ruto noticeably having been absent from the limelight as the government responds to Covid-19, Kuria claimed that Uhuru was 'missing' his principal assistant.
"I think someone misled my President yesterday. And I think my President is lonely. And I think my President misses his Deputy," Kuria maintained.
Starehe MP Charles 'Jaguar' Njagua had also questioned on Wednesday, April 1 whether it was a good idea to publicize the recoveries of Brenda and Brian as was witnessed.
He claimed that, following the press conference, a section of his constituents believed that the Coronavirus could be cured at the government's expense and, therefore, were more likely to go about their lives as normal.
"I've received calls from my constituents telling me that they're now even more afraid of hunger than they were of COVID-19. They can see it's curable at the government's expense.
"Was that press conference with Brenda & Brian a good idea? Did President Uhuru Kenyatta's advisers fail him?" he posed.
Health Cabinet Secretary Mutahi Kagwe on April 1 announced that Brian and Brenda had been cleared to rejoin their families after they appeared on a live video conference with President Uhuru Kenyatta.
"The president announced earlier today that Brenda and Brian had turned negative on two tests. They tested negative after being tested twice over a period of time, not on the same day. We are very pleased that they are now back home with their families," he stated.
Brenda had returned to Kenya from the United States via London on March 5, while Brian has been in quarantine for two weeks after reportedly contracting the virus from Brenda.
Gatundu South MP Moses Kuria speaking during a press briefing by Ruto-allied MPs on Wednesday, March 11, 2020, at Parliament BuildingsTWITTER