Police Boss In Trouble Over His Leaked Phone Conversation
2 min read
The Nakuru County Deputy County Commissioner (DCC) is a man under siege after phone call portraying him allegedly threatening residents in the area leaked to his bosses.
The DCC in charge of Molo sub-county is reported to have threatened residents who raised concerns over the widespread brewing of illicit alcohol in the region.
The residents reportedly accused him of colluding with the criminals, a matter than angered the officer identified as David Wanyonyi, leading him to threaten the residents with dire consequences.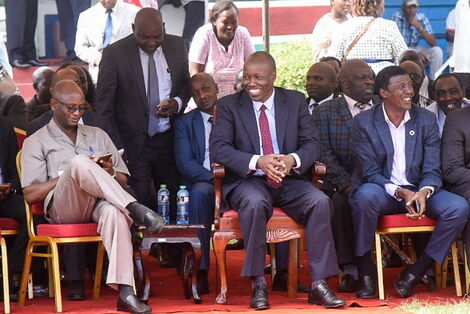 Nakuru County Commissioner Erastus Mbui (left), Nakuru Governor Lee Kinyanjui, and Treasury Chief Administrative Secretary Nelson Gaichuhie during the Nakuru BBI consultative meeting at Central Rift Valley Agricultural Showground on March 21, 2020.FILE
The Nakuru County Police Commissioner Erastus Mbui stated that Wanyonyi could face interdiction or possibly the sack if the allegations are found to be true.
Mbui, who went to the sub-county to verify the claims, established that indeed the drug menace had grown out of proportions despite the presence of the administrative authority in the area.
"Prevalence of illicit brews and also other drugs can be seen. There are signs all over that the vice is continuing and we have agreed on how to move forward henceforth.
"The directive we are now giving is the permanent deployment of police officers in the region," Mbui stated.
The county commissioner further noted that the sale that of liquor was a weak link in the government's fight against the pandemic since basic rules such as social distancing were not being observed.
Some of the residents who spoke to the media lamented that alcoholism has been an issue plaguing the region for a very long time due to a lack of jobs and opportunities.
One of the men who spoke lamented that matters had become worse in the wake of the Covid-19 pandemic which forced students to return home from school as per the president's orders.
One woman further stated that due to alcoholism and the general hardships in the region, people had opted for many vices, one of them being petty theft to stay alive.