How Covid-19 medics unknowingly endanger Kenyans' lives
3 min read
With the Ministry of Health yet to provide accommodation for all frontline healthcare workers, the medics continue to endanger the lives of Kenyans.
Frontline medics constantly come into contact with Covid-19 patients which not only puts their lives at risk but also people they come into contact with after work.
Healthcare workers are still yet to receive accommodation with many still commuting back home after their shifts, putting the lives of many at risk.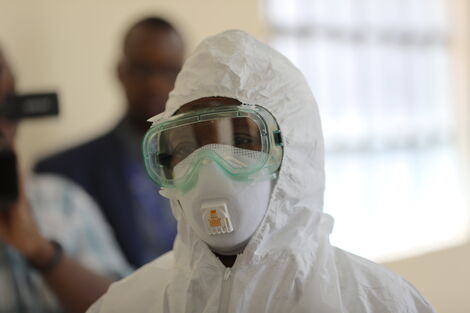 A medical practitioner dressed in protective gear at Coronavirus isolation and treatment facility in Mbagathi District Hospital on Friday, March 6, 2020SIMON KIRAGUKENYANS.CO.KE
The ministry had earmarked Hadassah Hotel to be used for accommodating healthcare workers to reduce the risk of spreading the virus.
KTN News established that the hotel next to Nairobi Hospital claimed to have no space for healthcare workers currently as they are fully booked.
On Saturday, May 2, Health DG Dr Patrick Amoth disclosed that one of the 20 cases that had contracted the Covid-19 virus in Kawangware was an employee of the Ministry of Health.
While appearing before Senate, Health Principal Secretary Susan Mochache revealed that they had set aside funds for healthcare workers accommodation.
" We procured half-board accommodation for 30 healthcare workers for 90 days at Ksh12 million," said Mochache.
KMPDU Acting Secretary General Chibanzi Mwachonda challenged that there weren't any healthcare workers accommodated in the hotel.
"We've actually gone there and confirmed that there are no doctors and health workers currently being housed there, who are in the frontline of Covid-19.
"What they told us is that it's the surveillance team that is currently accommodated at Hadassah Hotel," said Mwachonda.
At the Kenyatta University Teaching and Research Hospital, out of the 170 staff in the isolation unit, 20 staff per week are accommodated within the complex. Staff who stay alone or are single opted to commute from home.
On Tuesday, April 7 Health Director-General Patrick Amoth promised in the daily press briefings that health care workers would be accommodated.
"Following a meeting with senior government officials, suitable accommodations has been identified at Hadassah Hotel for the health care workers.
"A team from Kenya Medical Practitioners and Dentist Council is to identify extra facilities so that those who come into contact with these cases do not go home, but to a specific place hence prevent close contamination with members of their families and the public as they move home," noted Amoth.
Francisca Akinyi a senior nursing officer at Kenyatta National Hospital (KNH) recently opened up on how the pandemic has changed healthcare workers as she is forced to work 10 hours shifts.
She explained that staying at home has affected her physical interactions with her children who she now rarely meets to protect them from the virus.
The family has established procedures for essential activities such as meal times, which the nurse doesn't get to share with her family. She eats from her room and leaves the utensils outside the door and her children collect them for disinfection.
Some medics, in their daily commutes to work, may interact with other passengers in public transport and any failure to adhere to the Covid-19 safety regulations could prove dangerous.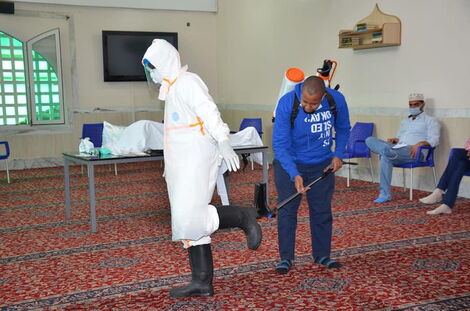 Training for volunteers on handling deceased Covid-19 victims at Jamia Mosque Nairobi on 4th April 2020.FACEBOOKJAMIA MOSQUE