Burale issues update on health condition after uproar
2 min read
Motivational speaker and city pastor Robert Burale has given an update on his health condition after the majority of Kenyans accused him of faking his Coronavirus (Covid-19) diagnosis.
The life coach spoke with Kenyans.co.ke through a video call on Wednesday, July 8, detailing that he was recuperating well and had no reason to face his critics as he was focused on healing.
"I never need to defend myself for being unwell. I am fully recovering and I am not in the Intensive Care Unit. I am in an isolation ward," Burale stated with the video showing medics attending to other patients in the ward.
The medics wore hazmat suits with patients, Burale included, wearing green patient gowns.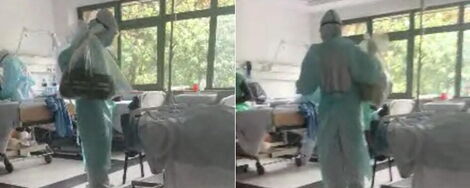 Inside an isolation centre hosting Pastor Robert Burale as seen on Wednesday, July 8, 2020FILE
"This disease is real and those arguing that it cannot be contracted are misplaced. Kenyans should be safe and adhere to protocols guided. I pray for everyone's safety," Burale stated.
The city clergy announced that he had tested positive for Covid-19 on Monday, July 6, through his Facebook page and a subsequent interview with Radio Maisha's Massawe Japani.
"For two days I fought for my life under the great care of the doctors and nurses at Nairobi Hospital. I saw the hand of God. My progress is good and my vitals are responding well. For anyone who thinks this thing is a joke… may the Lord have mercy on you… I gathered courage and called a few people who have tirelessly prayed for me… and sent encouraging messages," Burale stated.
However, his interview at Radio Maisha coupled up with an Instagram video sparked uproar after he was seen dressed in a t-shirt and cap. Netizens argued that the appearance was less convincing for someone who was on Oxygen in an ICU – a claim that was clarified that the celebrity pastor was not under intensive care.
According to the Ministry of Health, there are various stages for Covid-19 infection which require different treatment. Treatment for asymptomatic patients costs Ksh 21,000 per day, mild Covid-19 patients costs Ksh 21,400 per day, in ICU but on supplementary Oxygen is Ksh 51,000 per day and for those in ICU placed on a ventilator, the treatment costs Ksh 71,000 per day.
As of Wednesday, July 8, Kenya had recorded 8,528 Coronavirus cases with 169 fatalities and 2,593 recoveries.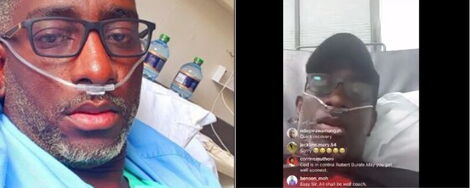 An image shared by Pastor Robert Burale on Wednesday, July 8, 2020 (left) and his live Instagram video on Monday, July 6, 2020 (right)INSTAGRAM