Magoha gives green light for holiday tuition
2 min read
Ministry of Education Cabinet Secretary Professor George Magoha has approved the rollout of holiday tuition that had been previously outlawed.
According to section 37 of the Basic Education Act, holiday tuition was prohibited and attracted a fine not exceeding Ksh100,000 or imprisonment for a period not exceeding one year or both.
With schools closed since March, Magoha has given the green light to holiday tuition as long as the tutors adhere to Covid-19 guidelines.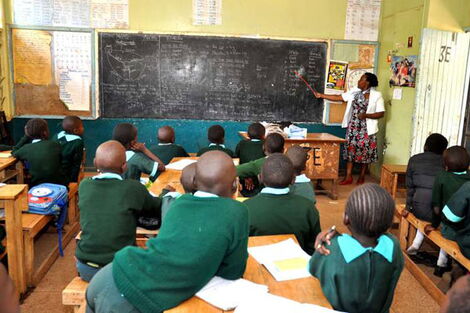 A teacher and students inside a classroom at Kawangware Primary School, Nairobi, on October 5, 2015.DAILY NATION
"As long as you are observing Covid-19 measures, there is no reason why you cannot assemble the children for teaching," he noted.
The move has been occasioned by a number of students not being able to access e-learning that had been preferred by the ministry through the Kenya Institute of Curriculum Development (KICD).
Magoha also insisted on learning going beyond the syllabus to include some life skills as he revealed President Uhuru Kenyatta's style of teaching children.
"The president said he teaches children around him how to dig and create small farms. If the president can do so, who are you not to do it?
"In addition to book learning, you take children through the university of life. There is so much that the teachers and parents can do as the children are still with us at home," stated Magoha.
Outlawing of holiday tuition was brought about after the government wanted to ease the burden placed on students at a time when a break was needed.
On Wednesday, March 18, Magoha fired a stern warning against teachers or anyone assembling learners for any form of tuition during the Covid-19 pandemic.
A number of teachers especially from private schools have been conducting holiday tuition to cushion them from the financial effects of Covid-19.
Back in November 2016, 12 teachers were arrested for allegedly conducting illegal tuition at Ahero primary school in Kisumu county.
The suspects who were arrested during a sting operation led by education principal secretary Dr. Belion Kipsang' who noted that teachers found guilty of conducting holiday tuition would be indicted