Emotions run high during late doctor's burial
2 min read
Emotions run high during the burial of the late Doreen Adisa Lugaliki , a doctor who succumbed to COVID-19 on Friday, July 10, 2020, in line of duty.
A sombre mood engulfed the ceremony that was attended by a few individuals at Ndalu village, Tongaren Sub-County in Bungoma on Monday, July 14.
In line with the government's Covid-19 government directives, health officers clad in protective gear handled the coffin as the mourners watched from a distance.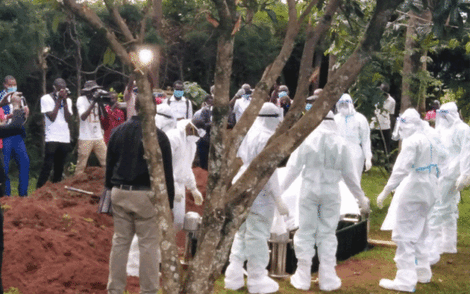 Family and friends gather for the burial of Kenya's first medic victim of Covid-19 Dr Doreen Adisa Lugaliki at Ndalu village, Tongaren sub-county in Bungoma County.K24 DIGITAL
Lugaliki's siblings described their sister as a hardworking individual who spent most of her hours attending to patients in hospital.
"She would sleep four hours a day. Most of the time, you would find her in hospital. I drew a lot of encouragement from her. Everybody can attest that Doreen was very hardworking and passionate," a sibling stated.
In addition, he stated that the sudden death came as a shock to the family.
"My parents are so devastated by her death because they cannot view the body and may not get closure," he added.
She passed on 48 hours after she was admitted to a private hospital in Nairobi.
The doctor had also been diagnosed with diabetic ketoacidosis, a serious complication of diabetes where your blood sugar is very high and acidic substances called ketones build up to dangerous levels in your body.
Until her demise, Lugaliki was a gynecologist and obstetrician at the Nairobi South Hospital where she was also taking care of Covid-19 patients.
She is survived by 13-year-old twins.