Widow to the deceased Naivas Supermarket Tycoon, Simon Mukuha, has passed on barely three weeks after he succumbed to a stroke.
The widow, Monica Wanjiru Gashwe, 58, died on Tuesday, September 17, while receiving treatment at the Aga Khan Hospital.
According to a funeral announcement from the family in one of the dailies, Wanjiru died on Monday, September, 16, 'after a long illness bravely borne.'
It was earlier reported that the widow had been admitted to the medical facility with a serious condition but it was not immediately clear what the condition was.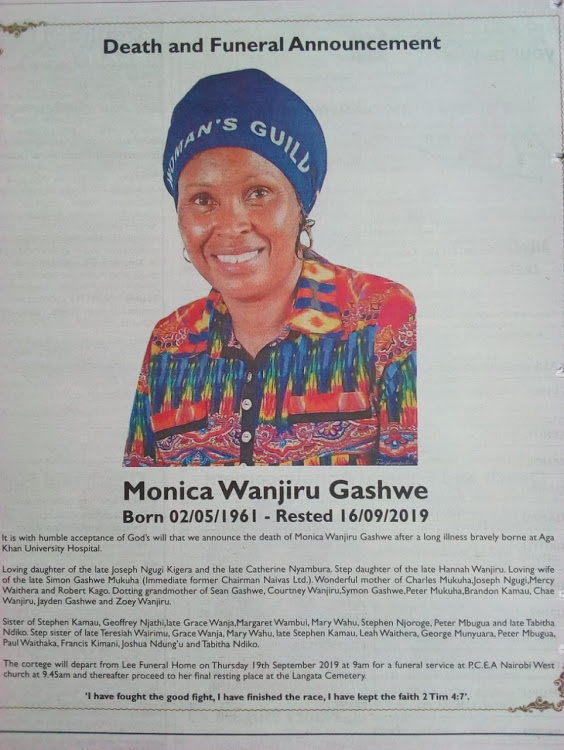 Her body was taken to Lee funeral Home and is set to be laid to rest at Lang'ata Cemetery on Thursday, September 19.
At the time of Mukuha's death at the same hospital, his wife was also admitted in the ICU unit.
Towards the end of August, Kenyans.co.ke reported that Mukuha, who held 25 per cent ownership of the retail outlet, died after suffering a heart attack.
Naivas supermarket Chief Operations Officer Willy Kimani reported, at the time, that "Mukuha has passed on this (Monday, 26 August 2019) evening at Aga Khan Hospital in Nairobi where he was undergoing treatment after suffering a heart attack."
The couple got married in 1982 and was blessed with four children together and eight grandchildren.