Nyeri Town Member of Parliament, Ngunjiri Wambugu, opened up on how the Orange Democratic Movement inspired him to foster peace within Kenyan communities.
During an interview with K24 TV on Sunday, September 15, Wambugu stated that he had worked within ODM in 2013, expecting that Raila Odinga's party was against tribalism. However, he ended up being disappointed.
According to Wambugu, he was approached by ODM's secretariat and appointed the party's political affairs director, after he birthed an initiative dubbed Kikuyu's for Change. The initiative pushed for unity after the 2007 elections sparked negative ethnicity, manifested by the skirmishes that rocked the country.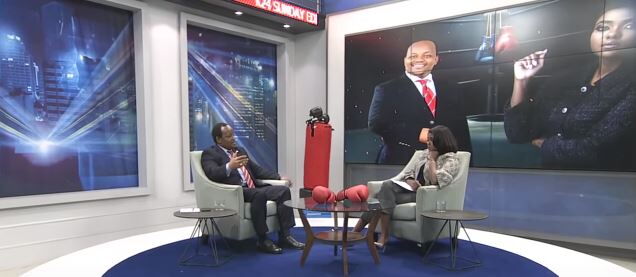 "Life is a learning process. You don't know everything at all given times. As you grow older you learn a lot. Kikuyu's for Change was idealistic and I believed that it was possible for us to go beyond our ethnic divides and unite Kenyans. However, upon joining ODM, I walked in as a Kenyan and walked out a Kikuyu. I was in a place where I assumed that we had all other communities and we were working together as Kenyans.
"However, I realised that ethnic identities were very stuck even in ODM. People within ODM used to tell me that wewe ni Mkikuyu, unafanya nini hapa (What are you doing here yet you are a Kikuyu)? By the time that campaign was over, I wondered to myself but ascertained that whether we like it or not, we have to fix where we are. That made me quit ODM and move into Central Kenya, promising to ensure we moved into another step of unifying people," Ngunjiri told K24 TV's Anne Kiguta.
Working within ODM also enabled him to learn the different perspectives of Kenyans and how they were centered around tribalism.
"I also learnt what people think about us, as we from Central do not interact more with other communities. When I went back to Central, I informed a lobby group I was working for that we had a problem. We had to create a way to work with other communities because the rest of the country seemed to have a problem with our community. That is what I proposed to the Building Bridges Initiative (BBI) recently," Ngunjiri opined.
The first-time legislator, allied to kieleweke faction, refuted claims that he was in ODM and had jumped ship to Jubilee before 2017 elections.
"Interestingly, I hear people saying that I was in ODM. I worked in that presidential campaign for 11 months. I left in March 2013, after the elections. Therefore, I was not in ODM before nor neither after elections," Wambugu asserted.
The MP, who is a staunch supporter of the famous March 2018 handshake between President Uhuru Kenyatta and Raila Odinga, revealed that he was a peace crusader and rallied on Kenyans to work in unison.
"Kikuyu's for Change was not a lobby group for ODM. It was a lobby group that began in 2007. I have been a supporter of positive ethnicity for a long time. The fact is that you have to accept you are from one community, but that does not stop you from accepting who you are and does not make you respect others any less.
"This thing of trying to pretend we do not have cultural differences irons out more problems," Wambugu informed.